Welcome to Danville, Vermont!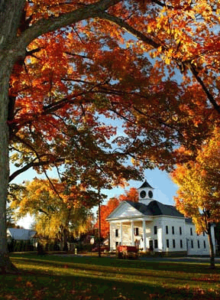 Nestled in Vermont's Northeast Kingdom, Danville is a quintessential New England town with a central green surrounded by homes, church, library, town hall, post office and several unique shops. The Danville Green is the focal point for a variety of local activities including:
Danville Fair – The 86th annual Danville Fair returns to the Green on Friday and Saturday, August 12 & 13, 2016. As always, we will have a variety of musical entertainment from the Bandstand Friday night and during the day and evening Saturday. The Horse and Pony Pull returns in full strength to the area behind the Methodist Church. A wide variety of food will be provided by our local non-profit organizations. Rides will be offered and fireworks are planned to be a part of the closing events on Saturday night.
Autumn on the Green – The 13th edition of the Northeast Kingdom's preeminent fall festival will return on Sunday, October 2, 2016 with the usual assortment of fine crafts, food, entertainment and beautiful fall weather!
The Caledonia County Farmer's Market will be on the Green for the entire summer!
Other prominent features of Danville include:
Joe's Pond and the Community Beach area
Greenbanks Hollow Covered Bridge and historical area
The Old North Church
A variety of walking areas and snowmobile trails
The scenic beauty of the surrounding hills
An interesting variety of shops offering a wide range of unique and local gifts and necessities
The bucolic nature of our historical and present economic base
The friendly and community-minded spirit of our citizens